Pakistanis protest US verdict in case of female scientist once linked to al-Qaida
By Nahal Toosi, AP
Thursday, February 4, 2010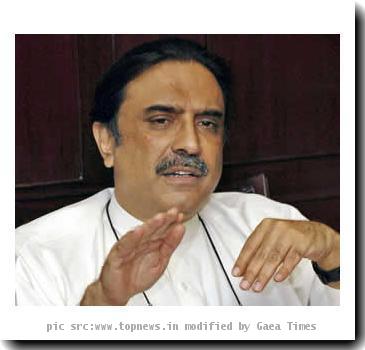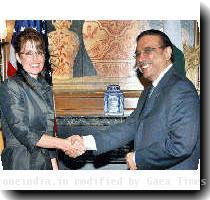 Pakistanis protest US verdict in scientist's case
ISLAMABAD — Pakistanis shouted anti-American slogans and burned the Stars and Stripes on Thursday in protest of a New York jury's conviction of a Pakistani woman accused of trying to kill Americans while detained in Afghanistan.
The protests drew thousands in at least four cities, demonstrating the widespread distrust, and even hatred, of the U.S. in this country whose cooperation Washington needs to stabilize neighboring Afghanistan.
They also showed the fierce passions surrounding the bizarre tale of Aafia Siddiqui, a 37-year-old U.S.-educated scientist who disappeared along with her three children for five years until she was picked up by Afghan police in 2008.
The U.S. says Siddiqui shot at American security personnel who came to interrogate her after her arrest in Afghanistan's central Ghazni province. But many Pakistanis believe the U.S. has fabricated the charges. Some suspect the Americans had long held the thin neuroscience specialist in a secret prison — allegations the U.S. denies.
A Manhattan federal jury convicted Siddiqui on Wednesday of two counts of attempted murder, though it found the act was not premeditated. Siddiqui was also convicted of armed assault, using and carrying a firearm, and assault of U.S. officers and employees.
Pakistanis denounced the verdict against Siddiqui, a devout Muslim who studied at the Massachusetts Institute of Technology and Brandeis University before returning to Pakistan following the Sept. 11, 2001, attacks.
"We hate America," "We hate U.S. judiciary," and "Down with the US," read some of the signs carried by burqa-clad women protesting in the southern city of Karachi, the hometown of Siddiqui's family.
"Had they acquitted Aafia, the world would have appreciated the American judicial system and its whole philosophy. But the conviction has shown us how they have crushed justice," her sister Fauzia Siddiqui told the rally.
In the western city of Quetta, Islamists burned a U.S. flag while denouncing several U.S.-related actions.
"We are with her. She is not alone. We will keep up our struggle against the United States of America," said Maulana Abdul Qadir, a leader of a hardline Islamist party.
Pakistani President Asif Ali Zardari issued a statement expressing concern about the verdict. In Washington, a Pakistani Embassy statement said diplomats were "dismayed" and would consult with Siddiqui's lawyers and family to determine the next step.
Pakistan's government has to tread carefully in its public statements regarding the U.S. because of the pervasive anti-American sentiment among its citizens, but the Siddiqui case is highly unlikely to do significant damage to Washington and Islamabad's alliance of necessity.
Impoverished Pakistan receives billions in U.S. aid, and Washington would be hard-pressed to succeed in Afghanistan without Pakistan's cooperation in rooting out militants who seek refuge on its soil. The protests Thursday were peaceful and seemed unlikely to mushroom, limiting the pressure facing the civilian government in Islamabad.
One of Siddiqui's three young children was picked up along with her in Afghanistan. The whereabouts of the other two remain a mystery.
FBI agents and U.S. soldiers testified that when they went to interrogate Siddiqui at an Afghan police station, she snatched up an unattended assault rifle and shot at them while yelling, "Death to Americans." She was wounded by return fire.
Testifying in her own defense, Siddiqui claimed she had been tortured while held in a "secret prison" before her detention. Charges that she attacked U.S. personnel who wanted to interrogate her were "crazy," she said.
Before her arrest, U.S. authorities had called Siddiqui an al-Qaida sympathizer. She was never charged with terrorism, but prosecutors said she was carrying bomb-making instructions and a list of New York City landmarks when she was captured.
Sentencing is set for May 6. Siddiqui faces a minimum sentence of 30 years on the firearm charge alone. Prosecutors said she could also get up to 20 years for attempted murder and up to eight years on the remaining counts.
Associated Press Writers Abdul Sattar and Abdul Rehman Achakzai in Quetta and Ashraf Khan in Karachi contributed to this report.
Filed under:
Crime
Tags:
Afghanistan
,
Asia
,
Asif Ali Zardari
,
Central Asia
,
Geography
,
Islamabad
,
Karachi
,
New York
,
New York City
,
North America
,
Pakistan
,
Protests And Demonstrations
,
South Asia
,
United States
,
Violent Crime