Juliani Cardenas Dead?
By Naiwrita Sinha, Gaea News Network
Saturday, January 29, 2011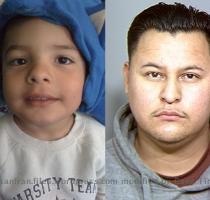 PATTERSON (GaeaTimes.com)- Police now are fearing that four year old Juliani Cardenas who was allegedly abducted on January 18 is dead. Yes, negative thoughts gripped the minds of the investigators after a 2003 silver colored Toyota Corrolo was found yesterday from the Delta-Mendota Canal near Patterson in northern California. Police believe that the car whose two windows are open and completely damaged belonged to the alleged kidnapper Jose Esteban Rodriguez. However, neither Jose Esteban Rodriguez nor the little Juliani Cardenas have been found yet.
Juliani Cardenas, was allegedly snatched away from his grandmother's arm on January 18 by Jose Esteban Rodrigue. The alleged kidnapping is being said to be connected to some personal problems for Jose Esteban Rodrigue is Juliani Cardenas' mother Tabitha Cardenas' former boyfriend with whom she split several months back. He is also said to be the father of her unborn child. Police started to search the Delta-Mendota Canal since last week after an eyewitness claimed that the car had gone inside the water with two persons inside it. As per sources, Adam Christianson Sheriff of the Stanislaus County has said that whatever hopes they had about the survival of the child is now gone. He has clearly mentioned that the two in all chances are dead.
Ever since divers have started to look inside the canal for Juliani Cardenas and Jose Esteban Rodrigue, they have also been able to recover thirteen others cars before rescuing the final three. While Tabitha Cardenas still hopes that her son will come back home, the Stanislaus County Sheriff has said that they will be looking for the bodies of the two which they believe have floated down.