Wikileaks Unveiling Swiss Bank Secrets!
By Arnab Ghosh, Gaea News Network
Tuesday, January 18, 2011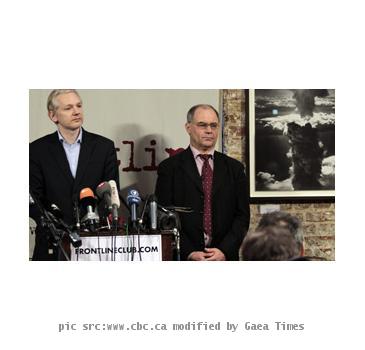 more images
LONDON, UNITED KINGDOM (GaeaTimes.com)- After exposing a myriad of political and war related secrets of USA the famous whistle blower website WikiLeaks is setting its target on the Swiss Bank. The founder of Wikileaks, Julian Assange has said that the hitherto unknown secrets of many account holders in the bank will be made public soon. He got two CDs on Monday which contain the names and information of over 2000 Politicians and Corporate honchos who have accounts in swiss Bank. Ex Swiss Bank associate Rudolf Elmer handed over the CDs to the WikiLeaks founder at a press conference held in London's Frontline Club. He got support from Julian Assange and he said "He is a bonafide whistleblower and it is our duty to extend him support." The WikiLeaks founder who is now facing a number of charges for exposing government secrets is determined to carry out his work and said that after examining the contents of the film he will decide his next course of action.
The WikiLeaks founder has said in no uncertain terms that he will not hesitate to unravel the sordid truths of the money launders and defaulters to the public and also to the Financial Investigative agencies. At the Press conference he said that there are the details of some top politicians from Africa, Asia and Europe in the CDs. It is not known how many Indians are there in that list.
The actions of the WikiLeaks founder in London has given the opposition political parties in India the chance to ask the ruling UPA government to publish the names of Indians having account in Swiss Bank. The wait will be over soon.