Mayawati Releases Bandra Victim
By Madhusmita, Gaea News Network
Sunday, January 16, 2011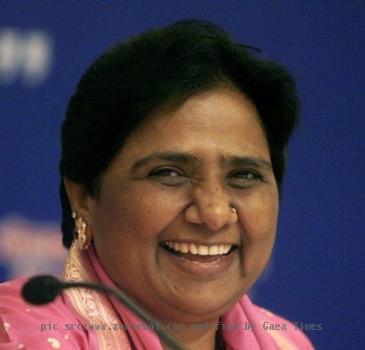 more images
LUCKNOW, INDIA (GaeaTimes.com)- On Saturday, Mayawati, the Chief Minister of Uttar Pradesh marked her 55th birthday by releasing the victim of Bandra rape case. The media outlets reported that Allahabad High Court also ordered the Chief Minister to release the Dalit girl, who was allegedly raped by BSP MLA, Purushottam Dwivedi. Moreover, High Court's bench of Justice S C Agarwal and Justice Imtiyaz Murtaza ordered that adequate security be provided to the victim and also her family members.
In her statement, the Chief Minister of Uttar Pradesh, Mayawati said that keeping the series of incidents and investigations in mind, it seems that the 17-year-old girl was falsely framed by the MLA Purushottam Dwivedi in the theft case. The Chief Minister also added that the the whole case will be looked after thoroughly and she promised that justice will be served to the victim by taking "punitive" action against the guilty. Mayawati said that in the Bandra rape case, if the MLA is found guilty of raping the 17-year-old girl, proper action will be taken against him.
The law enforcement officials, after investigating for about a month, found out that the theft charges against the girl was completely false as they did not find any evidence to prove it. Mayawati said that that the MLA gave theft allegations to the girl to hide his own nefarious crime. The victim of the Bandra case said that she was raped by BSP MLA Purushottam Naresh Dwivedi and three of his associates on December 12 but to hide his own act, the MLA had her jailed on charges of stealing a mobile and Rs 5,000 from his house. CBI is presently investigating the matter.