Arizona Shooting Condemned By Politicians
By Madhusmita, Gaea News Network
Sunday, January 9, 2011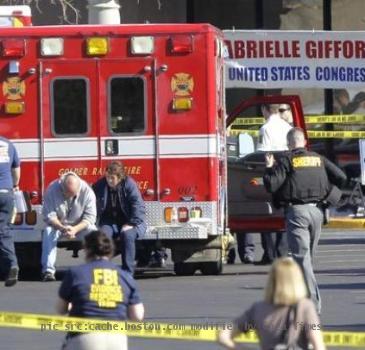 more images
TUCSON (GaeaTimes.com)- Arizona shooting on Saturday morning left 6 people dead and 13 other severely wounded and it included Congresswoman Gabrielle Giffords. Law enforcement officials are of the opinion that Gabrielle Giffords was the main target of the whole rampage. The suspect of the shooting was arrested immediately after the incident and the law enforcement officials said that the suspect had a troubled past while he might be mentally unsound as well. However, this incident has shocked the whole nation and all the politicians have strongly condemned the shocking incident while expressing their condolences at the unfortunate demise of the victims.
President Barack Obama released a statement after Arizona shooting where he stated that such a violent act has no place in the society. Jan Brewer, the Governor of Arizona has told that the flags should be flown at half staff in the state. The U. S. House of Representatives have postponed all their important discussions, legislation and debates because of the Arizona shooting. Senator John Cornyn told a reputed media source that he hopes that the people, who are responsible for the heinous act would be brought to justice soon. Congressman George Miller issued a statement after the deadly shooting where he expressed his deepest condolences and sadness.
In the statement, he stated that he is "deeply saddened" by the deadly shooting at Arizona. He maintained that the attack on Congresswoman and her staffs is deplorable and it represents an attack on American people. John Boehner, the House Speaker said that it was a sad day for the whole nation. U.S. Representative Jerrold Nadler said that Gabrielle Giffords has previously received death threats owing to her stand on health care reforms.