Swami Nithyananda: Was He Blackmailed?
By Arnab Ghosh, Gaea News Network
Friday, January 7, 2011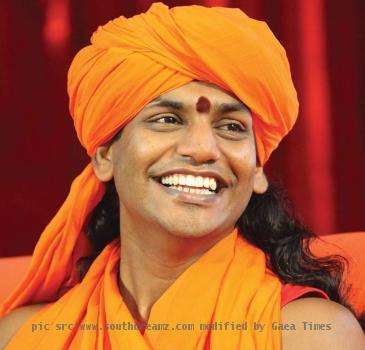 more images
BANGALORE, INDIA (GaeaTimes.com)- The tainted self styled godman Swami Nithyananda is back in news again! Almost a year back the spiritual leader got mired in a sex scam involving a South India actress. Amidst controversy rocking the state and allegations and counter allegations in his close circle over the matter he was arrested in North India. The Swami tried to defend himself saying that the so called sex video involving him and a south Indian actress was merely a footage of the actress giving him massage! However, the video was leaked online and those who saw it claimed that he was seen in a seriously compromising position with the actress. The investigation was started by CBI and the latest update is that the spiritual leader has admitted that he was blackmailed before the sex controversy erupted. He reportedly paid 1.4 million pounds in his attempt to stop the sex video from getting leaked.
The media entities have said that Swami Nithyananda revealed during the CID investigation that a journalist blackmailed him saying he had a footage of the sex video. The unidentified journalist reportedly wanted 3.5 million pounds from him but after negotiation the amount was reduced to 1.4 million pounds. The revelation resulted in state wide riots last year.
If the claims of CID team investigating Swami Nithyananda sex scandal are true then he may face criminal proceedings. The Forensic Science Lab scanned the controversial sex video and they have said that the woman in the video is Ranjitha, the southern siren who refuted the allegations earlier. The tests have also confirmed the footage was not manipulated or morphed as the swami had claimed.