Angry Blagojevich, sounding desperate for money, rips Obama on tape as 'all take and no give'
By Mike Robinson, AP
Wednesday, June 30, 2010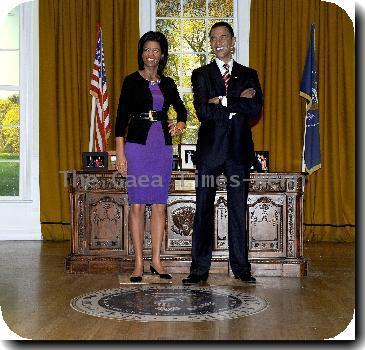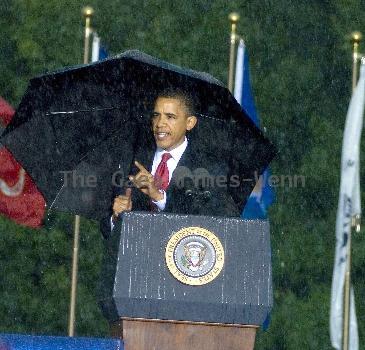 Angry Blagojevich says on tape, 'I get nothing'
CHICAGO — An angry Rod Blagojevich is heard ripping into Barack Obama on FBI tapes played Wednesday at his corruption trial, calling the newly elected president "all take and no give" for ignoring his overtures about an alleged deal that the Illinois governor hoped would secure his financial future.
"I get nothing," Blagojevich thunders. At another point, sounding desperate to assure himself of enough money after leaving the governor's office, he rails against Obama and his aides, saying, "The arrogance of these people."
In the days after the November 2008 election, the Blagojevich heard on tape seems determined to secure a high-paying job for himself outside Illinois government.
He hopes for a Cabinet post if he appoints longtime Obama friend Valerie Jarrett to the Senate seat Obama is leaving, witnesses said. He especially wanted to be secretary of health and human services. But testimony at the trial, now in its fourth week, has suggested that all Blagojevich got was a message from Obama's camp that the new president would be "thankful and appreciative" if Jarrett were named to the Senate seat from Illinois.
When a political consultant suggests on a tape played in court Wednesday that Blagojevich would be smart to appoint Jarrett on her merits with no specific reward, Blagojevich not only grumbles about his money problems but about the threat that Illinois House Speaker Michael Madigan, a longtime political adversary, would start impeachment proceedings to oust him.
"I'm left with gridlock, a pissed-off speaker, a potential impeachment and a president who is all take and no give," Blagojevich snaps.
Jarrett eventually withdrew her name from contention for the Senate. But even before that, according to testimony, Blagojevich was telling aides and labor union allies that perhaps he could use the seat to get a high-paying union or foundation position.
Blagojevich, 53, has pleaded not guilty to charges that he schemed to get an important or high-paying job in return for the appointment to the Senate seat. He has also pleaded not guilty to charges that he plotted to launch a racketeering operation using his powers as governor. If convicted, he could face up to $6 million in fines and a sentence of 415 years in prison, though he is sure to get much less time under federal guidelines.
His brother, Robert Blagojevich, 54, a Nashville, Tenn., businessman, has pleaded not guilty to taking part in the alleged scheme to sell or trade the Senate seat and illegally pressuring a racetrack owner to make a $100,000 campaign contribution.
Tapes of Rod Blagojevich's conversations with former aide Doug Scofield, now a public relations consultant and lobbyist, in the days after the election show him as casting about, unsure of his next move.
Blagojevich is heard telling Scofield to have lobbyist John Wyma, a former aide, call Obama's top aide, Rahm Emanuel and tell him that Blagojevich wants to start a foundation dedicated to health care problems — something he has been describing as his signature issue.
The governor wanted union supporters or the White House to drum up support for the foundation from super-rich investors Warren Buffett and George Soros. Scofield testified that he made the call and told that to Wyma but assumed Wyma didn't pass the message to Emanuel.
"Did Wyma ever call you back?" Assistant U.S. Attorney Reid Schar asked.
"No, he didn't," Scofield said. He said he himself considered the idea ridiculous and he was only carrying it out to maintain good relations with the governor.
Another time, Blagojevich asks Scofield if the White House wouldn't be able to help his wife, Patti, get onto corporate boards where she could collect hefty director's fees.
He mentions that "what's her name" received $65,000 a year for serving on the board of a company that operates restaurants. "How about getting Patti a couple of those?" he asks plaintively. Scofield testified that by "what's her name" Blagojevich was referring to Obama's wife, Michelle Obama.
Blagojevich says the directors fees would help his family while it had to "suck it up" over the years before he leaves the governor's office.
Exactly what motivated Blagojevich's desperate concern about money is uncertain. Prosecutors say he was facing $200,000 in consumer debt at the time of his arrest on Dec. 9, 2008. A former aide testified that Blagojevich was used to having his suits custom-tailored and sometimes bought nine at a time.
While questioning Scofield, defense attorney Aaron Goldstein tried to portray him as a liar who had led the governor on and fed his dreams of a Cabinet job to keep open a potential source of public relations fees. The most the former aide would say was that he was "placating" the governor because he didn't want to argue.
"I thought it was something he wanted to hear," Scofield said.