Police say suicide bomber kills 5, wounds 60 at Shiite gathering in Pakistan-held Kashmir
By AP
Sunday, December 27, 2009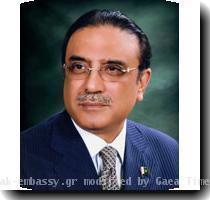 more images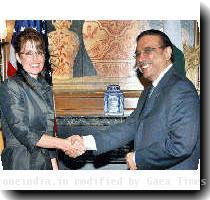 more images
Bomber kills 5 at Shiite gathering in Pakistan
ISLAMABAD — A suicide bomber detonated his explosives outside a large gathering of Shiite Muslims in the capital of Pakistan-controlled Kashmir on Sunday, killing five people and wounding 80, said police.
The attacker blew himself up as police tried to search him at a checkpoint set up outside the event — part of the annual commemorations of the seventh century death of the Prophet Muhammad's grandson — said police officer Tahir Qayum. The five killed included two police, he said.
Most of the 80 injured were Shiites attending the gathering in Muzaffarabad that attracted about 1,000 people, said police officer Sardar Ilyas. Ten of the wounded are in critical condition, he said.
Minority Shiites in Pakistan have often been targeted by radical Sunnis during similar tributes, held every year during the Islamic holy month of Muharram. But Ilyas said there was no history of such sectarian clashes in Muzaffarabad.
Authorities called the army in after the attack to restore order, said Kafayat Hussain, a local minister.
Pakistan has been plagued by rising violence since the military launched a large ground offensive in mid-October in the militant stronghold of South Waziristan in the country's lawless tribal area near the Afghan border.
Three bombs planted in a government official's house in another tribal area exploded Sunday, killing him along with his wife and five children in an attack police said was retaliation for military operations targeting Taliban. The military has stepped up airstrikes in Kurram where many militants fled following the South Waziristan offensive.
Sunday's attack in Sadda city targeted the house of Sarbraz Saddiqi, a government official in Kurram, said police officer Naeemullah Khan. Police are investigating how the bombs, which were timed to explode, were planted in Saddiqi's house, he said. The explosion also wounded three people.
Many Taliban militants are also believed to have fled to North Waziristan, an area in Pakistan's tribal region dominated by jihadi groups launching cross-border attacks against coalition forces in Afghanistan.
As the army pursues a handful of offensives against militants, political turmoil in Islamabad, including calls for Pakistan's embattled president to step down, has threatened to distract the government.
President Asif Ali Zardari played to those fears Sunday, accusing those demanding his resignation of threatening the state's democratic system. His defiant remarks were made in his first public appearance since the Supreme Court struck down an amnesty protecting him and several other senior ruling party officials from corruption charges. In a speech marking the second anniversary of the bombing death of his wife, former Prime Minister Benazir Bhutto, Zardari said opponents working to bring down his government were "colluding" with militants.
"It is a conspiracy to weaken Pakistan," said Zardari, standing in front of a few thousand people near Bhutto's tomb in her ancestral village of Garhi Khuda Bakhsh in southern Pakistan.
The amnesty struck down by the Supreme Court was issued by former President Pervez Musharraf as part of a U.S.-backed deal to allow Bhutto to return from self-imposed exile. After her death, Zardari led the ruling Pakistan People's Party to victory.
Zardari enjoys legal immunity while president, but analysts have said he could be vulnerable if opponents challenge his original eligibility to run for office.
Political turmoil is the last thing Washington wants to see as it presses Pakistan to target militants undermining the U.S. fight in Afghanistan.
In the face of Islamabad's reluctance, the U.S. has relied more heavily on drone missile strikes in Pakistan's tribal areas, including one Saturday in the Babar Raghzai area of North Waziristan.
Opposition leader Nawaz Sharif on Saturday demanded that all those who benefited from the amnesty, including the interior and defense ministers, should resign, a tougher stance than he has taken since the verdict was first issued.
But analysts have said Sharif is wary about provoking too much conflict to avoid giving the country's powerful military an excuse to step in and take over.
Most of the people killed in Saturday's strike were militants, said the intelligence officials, speaking on condition of anonymity because they were not authorized to talk to the media.
"We know what will happen when there is a war among institutions," said Zardari, standing in front of a few thousand people near Bhutto's tomb in her ancestral village in southern Pakistan.
Associated Press writer Hussain Afzal in Parachinar, Rasool Dawar in Mir Ali and Ashraf Khan in Garhi Khuda Bakhsh contributed to this report.
Filed under:
Crime
Tags:
Afghanistan
,
As-pakistan
,
Asia
,
Asif Ali Zardari
,
Bombings
,
Central Asia
,
India
,
Islamabad
,
Kashmir
,
Municipal Governments
,
Nawaz Sharif
,
North America
,
Pakistan
,
South Asia
,
Terrorism
,
United States