Julie Powers Schenecker Denied Bail
By Swatilekha Paul, Gaea News Network
Tuesday, February 1, 2011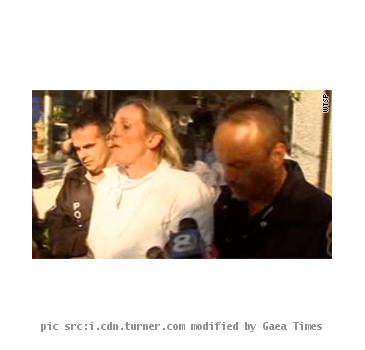 more images
TAMPA (GaeaTimes.com)- Julie Powers Schenecker was produced at a Tampa court on Monday for a brief hearing in the murder case of her two teenage kids, 16-year-old Calyx and Beau 13. Dressed in a prison suit with hands bound in handcuffs, the 50-year-old woman had her first court appearance at the Hillsborough County Court in Tampa where she was denied bail. As Circuit Judge Walter Heinrich gave the ruling telling her that she cannot be granted bail, the mother of two did not say a word but cried while weeping her tears.
The 50-year-old was detained by Tampa cops on Friday after she was found drenched in blood at her home's back porch. According to police authorities, the body of Julie Powers Schenecker's teen daughter was found in a bedroom of the house with two gun shot wounds on her head while Beau's body was discovered at the front seat of a car that was parked in the garage of the house. Preliminary investigation has suggested that the 13-year-old boy was shot by his mother while the duo were on their way to the teen's soccer practice game while Calyx was killed at her bedroom as she was working on the computer.
Investigators have divulged that Julie Powers Schenecker used a .38 caliber gun to shoot her two children and initial probe has indicated that the killings might have been planned by the 50-year-old woman. As per the arrest affidavit, the pistol used in the crime was bought by Julie Powers Schenecker just five days before the horrifying incident took place.