Elizabeth Smart Kidnapper On Trial
By Tias, Gaea News Network
Monday, November 1, 2010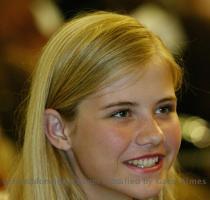 more images
SALT LAKE CITY (GaeaTimes.com) After 8 years of delay, the Elizabeth Smart kidnapping case might finally see justice being served as the jury selection starts today. If convicted, the man accused of kidnapping Elizabeth Smart 8 years ago could spend the rest of his life in prison. The trial has received huge media attention especially because Elizabeth Smart will come face to face for the first time with the man who held her captive for 9 months at the age of 14.
Elizabeth Smart was abducted in June 2002 from a posh locality in Utah by Brian David Mitchell. The man broke into the house after slicing through the kitchen window screen in the middle of the night and taking the 14-year-old while she was asleep beside her elder sister. With the news reaching the media, officials and the common man began a city-wide search of the teenager in 2002. Nine months later motorists found her walking along a street in one of the suburbs. Some reports suggest that the wife of Brian David Mitchell also helped her husband to keep the teenager in captivity. Reportedly, the kidnapper brainwashed the teenager and then forced her to live as his wife till someone recognized her and rescued her from the criminal.
The case has been delayed a number of times due to the questions about the mental stability of Brian David Mitchell. He was indicted in 2008 on federal charges of kidnapping and the unlawful transportation of a minor across state lines. Elizabeth Smart is presently living in France at a missionary but she will be present at the time of the trial.