Japan's prime minister steps down over bungled handling of relocation of US base
By Mari Yamaguchi, AP
Tuesday, June 1, 2010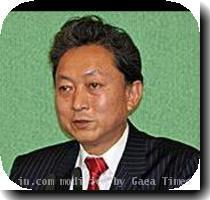 more images
Japan's prime minister steps down over base row
TOKYO — After just eight months in office, embattled Japanese Prime Minister Yukio Hatoyama said Wednesday he was resigning over his broken campaign promise to move a U.S. Marine base off the southern island of Okinawa.
The prime minister faced growing pressure from within his own party to step down ahead of July's upper house elections. His approval ratings had plummeted over his bungled handling of the relocation of the Marine Air Station Futenma, which reinforced his public image as an indecisive leader.
Hatoyama is the fourth Japanese prime minister to resign in four years.
Until Tuesday night, Hatoyama insisted he would stay on while intermittently holding talks with key members of his Democratic Party of Japan. But on Wednesday morning, Hatoyama faced the nation to say he was stepping down.
"Since last year's elections, I tried to change politics in which the people of Japan would be the main actors," he told a news conference broadcast nationwide. But he conceded his efforts fell short.
"That's mainly because of my failings," he said.
Hatoyama, 63, cited two main reasons for his resignation: the Futenma issue, which led to the dismissal of one of his Cabinet members who could not accept his decision, and a political funding scandal. In that incident, two of his aides were convicted of falsifying political contribution reports and sentenced to suspended prison terms. Hatoyama himself did not face charges in the case, but it tainted his image.
Hatoyama also urged DPJ's powerful veteran and secretary general Ichiro Ozawa, who faces a separate political fundraising scandal, to step down as well, to achieve "a fresh and clean DPJ."
"Our politics must break with money," he said. "We must become compeletely clean in order to revitalize our party."
His government came to power amid high hopes in September — promising to make politics more transparent and rein in the power of bureaucrats — after his party soundly defeated the long-ruling conservatives in lower house elections.
Hatoyama also had also promised to forge a "more equal" relationship with the United States and to move Futenma off Okinawa, which hosts more than half the 47,000 U.S. troops in Japan under a security pact.
But last week, he said he would go along with the 2006 agreement to move the base to a northern part of the island, infuriating residents who want it off Okinawa entirely.
Hatoyama said Wednesday that recent tensions in the Korean peninsula surrounding the sinking of a South Korean warship reminded him of the potential instability in Northeast Asia and drove home the importance of the U.S.-Japan security pact.
"There was no choice but to keep the base on Okinawa," he said.
His three-way coalition was cut to two members over the weekend when a junior partner, the Social Democrats, withdrew after the prime minister expelled its leader Mizuho Fukushima, who rejected the Futenma decision, from the Cabinet.
"His resignation is clearly because he has neglected the voices of the people," she said.
Fukushima's dismissal enhanced her public standing as a politician who stood up for her convictions and reinforced perceptions of Hatoyama's wishy-washiness.
"I had such high expectiations when he took power, but now I'm really dissapointed, because he simply lacks leadership," said Mieko Ohashi, a 42-year-old company employee in Tokyo.
On Futenma, she said Hatoyama should have studied the issue more before making promises to move it off Okinawa.
"In the end, nothing has really changed in Okinawa," she said, adding that she wouldn't vote for the DPJ in the upcoming upper house election even though she backed the party in the previous election. Opposition Liberal Democratic Party executive Tadamori Oshima criticized the resignation, calling it "a makeover to gloss over their image with voters."
"If this is their answer to the votes that the people gave them last year expecting a change, they should dissolve parliament and seek a new public mandate," he said.
After Hatoyama's flip-flop on the base issue, some of his own party members began to see him as a liability in elections likely to be held July 11, and urged him to step down.
Hatoyama's party did win some public praise for its attempts to cut back on huge public works projects, a major plank of the previous LDP administrations that ruled Japan for most of the previous 50 years. But they were also criticized for being slow to implement other campaign promises, such as making expressways toll-free.
Hatoyama, the grandson of a prime minister who earned a Ph.D in engineering at Stanford University, was sometimes viewed as aloof and eccentric by the Japanese public, earning him the nickname "alien."
Such perceptions increased after investigators found that Hatoyama had received 15 million yen ($170,000) a month from his mother to support his political activities — although he said had no knowledge of the contributions until the prosecutors' investigation.
Analysts have speculated that Finance Minister Naoto Kan might succeed Hatoyama. Kan, seen as more outspoken and independent-minded, gained prominence for exposing a 1996 government cover-up of HIV-tainted blood products that caused thousands of hemophilia patients to contract the virus that causes AIDS.
Public broadcaster NHK said the DPJ would elect Hatoyama's successor on Friday. Party officials did not immediately return phone calls.
Associated Press Writer Shino Yuasa and Malcolm Foster contributed to this report.
Filed under:
Crime
Tags:
Asia
,
East Asia
,
Japan
,
North America
,
Political Corruption
,
Political Issues
,
Political Resignations
,
Political Scandals
,
Tokyo
,
United States
,
Yukio Hatoyama