Despite conviction at NYC trial, Pakistani scientist linked to al-Qaida remains defiant
By AP
Thursday, February 4, 2010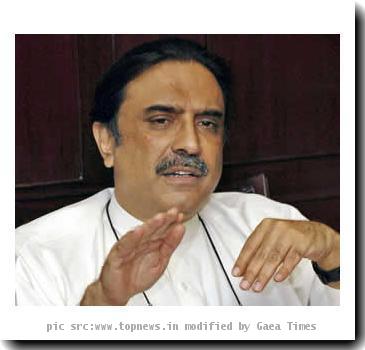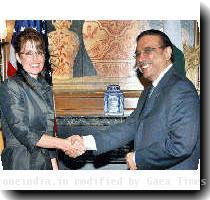 NYC conviction doesn't silence Pakistani scientist
NEW YORK — True to form, Aafia Siddiqui did not go quietly.
Throughout a federal trial that featured compelling testimony about a perplexing case, the Pakistani scientist-turned-attempted murder defendant offered a running, combative commentary that sometimes got her kicked out of the courtroom.
Siddiqui greeted a Manhattan jury's guilty verdict Wednesday by raising her arm, blaming Israel and declaring, "Your anger should be directed where it belongs."
Jurors had heard FBI agents and U.S. soldiers testify that when they went to interrogate Siddiqui at an Afghan police station in 2008, she snatched up an unattended assault rifle and shot at them while yelling, "Death to Americans." She was wounded by return fire but recovered and was brought to the United States to face trial.
How the 37-year-old Siddiqui got there was shrouded in a mystery that neither the government's evidence about what it called her terrorist plans nor her own vague testimony about being tortured in a "secret prison" did much to clear up.
"If you've been in a secret prison, abused, whatever, you become modest," she said about the head scarf that kept her face hidden throughout the trial. "It's part of the religion."
The guilty verdict was met by protests in Pakistan, where hatred of the U.S. government runs high and there is widespread belief that the charges against Siddiqui were fabricated. Thousands of people demonstrated in at least four cities, and President Asif Ali Zardari issued a statement expressing concern about the verdict.
"Had they acquitted Aafia, the world would have appreciated the American judicial system and its whole philosophy. But the conviction has shown us how they have crushed justice," Siddiqui's sister, Fauzia, said at a rally in Karachi.
The daughter of a doctor and a social worker, Siddiqui became a neuroscience specialist by training at the Massachusetts Institute of Technology and Brandeis University in the early 1990s. Authorities claim she later fled to her native Pakistan in 2003 after marrying an al-Qaida operative related to Khalid Sheikh Mohammed, the admitted mastermind of the Sept. 11, 2001, terrorist attacks.
At trial, jurors were told that Siddiqui turned up in Afghanistan in July 2008. They also heard how Afghan police caught her carrying what prosecutors called "a road map of destruction" — bomb-making instructions, a list of New York City landmarks such as the Statue of Liberty and documents referencing "mass casualty attacks."
A decorated chief warrant officer told jurors he had set down his M4 rifle after being told Siddiqui had been restrained. He testified he was shocked when she suddenly appeared from behind a curtain wielding the rifle and yelling, "Allah akbar," Arabic for "God is great."
"It was pretty amazing she got that thing up and squared off," said the officer, who testified in uniform but was allowed to withhold his name. "She was looking at me and aiming dead at me."
Hearing the rifle go off, the officer said, he followed his military training and pulled his pistol. Siddiqui was wrestling with an interpreter when he shot her in the stomach.
"I operated within the rules of engagement to eliminate the threat," he said.
Against the wishes of her lawyers, Siddiqui took the witness stand to give her side. She testified she was shot shortly after she poked her head around a curtain to see if there was a way she might slip out of the room where she was being held. She said she was desperate to escape because she feared being returned to a secret prison.
"I wanted to get out," she said. "I was afraid."
The defense insisted there was no ballistic, fingerprint or other physical evidence proving the weapon was "touched by Dr. Siddiqui, let alone fired by her." Siddiqui called the charges "crazy."
"It's just ridiculous," she said.
Despite her frail looks and insistent denials, Siddiqui "is no shrinking violet," Assistant U.S. Attorney Christopher La Vigne countered in closing arguments.
"She does what she wants when she wants it," he said. "These charges are no joke. People almost died."
The jury deliberated for three days before finding Siddiqui guilty of two counts of attempted murder, though the jury found the crime wasn't premeditated. Siddiqui also was convicted of armed assault, using and carrying a firearm and assault of U.S. officers and employees.
Siddiqui faces a minimum sentence of 30 years on the firearm charge alone and a maximum of life in prison. Prosecutors said she could also get up to 20 years for attempted murder and up to eight years on the remaining counts at sentencing May 6.
Advised after the verdict by U.S. District Judge Richard Berman to work on post-verdict issues with a defense team paid for in part by the Pakistani government, Siddiqui responded, "These are not my attorneys."
Outside court, defense attorney Charles Swift told reporters that it was unclear whether there would be an appeal. He suggested the trial had been an ordeal for everyone at the defense table.
"I think Dr. Siddiqui was in a terrible place, and that made this very difficult," he said.
Associated Press writer Larry Neumeister contributed to this report.
Filed under:
Crime
Tags:
Afghanistan
,
Asia
,
Asif Ali Zardari
,
Central Asia
,
Geography
,
New York
,
New York City
,
North America
,
Pakistan
,
South Asia
,
United States
,
Violent Crime