Maddelacheruvu Suri Killed
By Reema, Gaea News Network
Tuesday, January 4, 2011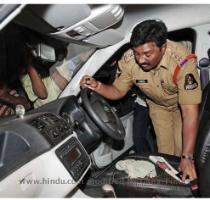 more images
HYDERABAD, INDIA (GaeaTimes.com)- Maddelacheruvu Suri, or Gangula Suryanarayana Reddy was killed on Monday evening, while he was traveling in his car. It is speculated, that it is his 'close associate', Bhanu Kiran, who is the prime suspect in this murder. Maddelacheruvu Suri, was the main assasinator of Paritala Ravi, the Telugu Desam Party MLA. After he was arrested for his murder, Maddelacheruvu Suri said that one day he would be on the "mortem table" himself, for taking 26 innocent life in the assassination case, where he only intended to kill his enemy, Paritala Ravi. Now it seems that his own curse took the shape of reality.
The murder took place at Navodaya Colony, in Banjara Hills when two bullets, fired from behind, made their way straight into his head from a short distance, while he was moving in his car. Maddelacheruvu Suri was returning from Balanagar and was heading towards Madhuranagar-Krishnanagar road, in Yousufguda, after meeting his advocate. After the gun shot, he immediately fell over his temporary driver Madan Mohan Reddy, who took him to the nearby Apollo Hospitals in Jubilee Hills in the same car. The police said that he left his life in the hospital yesterday. Madan Mohan Reddy told the police that as soon as he heard the gunshot, Bhanu Kiran asked him to accelerate the speed as they were being attacked. However, the suspect himself jumped out of the running car and disappeared. The police said that the firing did not occur from outside, as the windows of the car were not destroyed. Therefore, the trigger was probably pulled by someone inside, that killed the assassinate.
It has been reported that the main driver of Maddelacheruvu Suri was on leave that day, and he trusted Bhanu Kiran and the temporary driver Madan Mohan Reddy. However, these two have been regarded as the main suspects who killed him, and 'crucial details' regarding the murder case will be derived from them.
Filed under:
Crime
Tags:
Andhra Pradesh
,
Balanagar
,
Banjara Hills
,
Bhanu Kiran
,
Hyderabad
,
India
,
Madan Mohan Reddy
,
Maddelacheruvu Suri
,
Navodaya Colony
,
Paritala Ravi
,
Telugu Desam Party