Suresh Kalmadi's Houses Raided By CBI
By Arnab Ghosh, Gaea News Network
Friday, December 24, 2010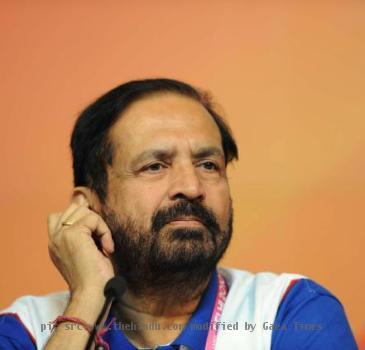 more images
DELHI, INDIA (GaeaTimes.com)- In a sensational development that have sent waves in the media and political circles in India the CBI carried out raids on the houses of disgraced CWG Organizing Committee chief aka Suresh Kalmadi. The raids were conducted at his houses in the Indian capital and Pune in connection with CWG related irregularities. The sources said that the raids were carried out in early morning and both his houses were visited by teams compromising of 10 CBI sleuths. Along with Suresh Kalmadi the house of Manoj Bhure, his personal secretary was also searched by the CBI team. The raid was conducted after reports poured in suggesting some more documents related to the CWG may still be hidden.
The CBI has intimated the Cabinet secretary saying that both Suresh Kalmadi as well as his deputy Lalit Bhanot need to be removed from the OC because they are creating problems for the investigation. The central agency has submitted three FIRs so far in connection with the CWG scam. The residence of V K Verma the OC Director General was searched last month in this context.
Suresh Kalmadi's name has been mired in a number of controversy and scams in recent times. His pet project the Formula One Grand Prix in India got him a fair dose of negative publicity as well. He always appeared offensive and arrogant the allegations notwithstanding but after the CWG scam erupted he is playing it safe. With time new allegations regarding the games are cropping up and the incessant CBI onslaughts coupled with political pressure have cornered him for sure.