Michigan Lottery Theft Accused Sentenced
By Naiwrita Sinha, Gaea News Network
Sunday, December 19, 2010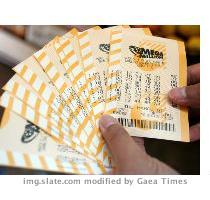 MICHIGAN CITY (GaeaTimes.com)- A 22 year old
Michigan
City woman has been sentenced for probation where she will be kept under observation after she pleaded guilty of
lottery
theft charges. On Wednesday Tiffany Borolov pleaded guilty in a La Porte Circuit Court after she was accused of stealing a big amount of cash in the form of lottery tickets. She used to work in a store called East Side Produce at 4666 W. Her employer had caught her guilty after he saw her committing the crime through a store surveillance video.
According to sources, the court as of now has given Tiffany Borolov the verdict of being in probation for a period of 455 days during which she will be monitored for 90 days. A source claimed that the young lady will not be taken to jail but will be under house arrest where she will be electronically monitored. Charges have been levied against her that she stole an amount of more than $21,000 from the Michigan City store. Her employer Mike Mussa revealed that he was not aware of this darker side of Tiffany Borolov until one day he saw the footage where he saw her doing this crime of stealing lottery tickets.
Investigations of the Michigan City police reveal that she took the help of a scanning device which helped her in making out as to which were the winners. She did not even had to scratch the lottery tickets off fully. It has come up that Tiffany Borolov took 260 lottery tickets in a single shift , out of which 15 were the winning ones. After this to avoid any suspicion she slyly resorted to the usual store procedures to collect the payoffs.