Sweden Bomb Scare
By Tias, Gaea News Network
Saturday, September 25, 2010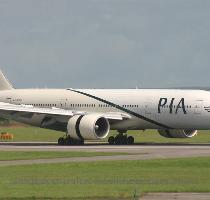 more images
STOCKHOLM, SWEDEN (GaeaTimes.com)- Canadian authorities have asked authorities in Sweden to evacuate a Pakistan International Airlines(PIA) Flight after they received a call saying that a man on the aircraft was carrying explosives. The police have revealed that there were 273 passengers onboard when it was asked to make an emergency landing in Stockholm, Sweden. The flight was bound from Toronto to Karachi.
The pilot had requested the Swedish authorities for the emergency landing after the Canadian authorities confirmed the bomb threat. All the passengers were evacuated from the aircraft before it was thoroughly searched by bomb disposal experts. Earlier the aircraft was parked at a safe distance from the main terminus and the Swedish Police got on the flight to apprehend the suspect who was a Canadian of Pakistani origin. Police revealed that the arrest was made in a non-dramatic fashion. Another police confirmed that the man had no ill records and was not banned from flying by any of the authorities. They said that there was no big threat of a bomb as the passengers had gone through the security checks in Canada itself.
The Canadian authorities asked the flight to land after a woman made an anonymous phone call from a booth in Canada and claimed that the man on board the aircraft was carrying explosives. A spokesperson for the PIA confirmed that the Toronto-Karachi bound flight had been halted in Sweden due to security reasons. The Boeing 777 had landed at the Arlanda airport in Stockholm in the early hours of Saturday.No injury to the passengers have been reported.