Norma Lopez: Moreno Valley Body Identified As Teen's
By Reema, Gaea News Network
Thursday, July 22, 2010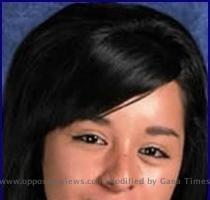 more images
MORENO VALLEY (GaeaTimes.com)- On Wednesday, the authorities confirmed to media sources that the partially decomposed body which was found at the outskirts of Moreno Valley is that of Norma Lopez. The Sheriff's spokesman Joseph Borja said to media sources that the authorities were able to positively identify the body of Norma Lopez after an autopsy was carried out early on Wednesday. Although the police confirmed the death of Norma Lopez, nothing was mentioned about the exact manner of her death. The Police suspected earlier that Norma Lopez was abducted while she was returning from her summer school.
The partially decomposed body of Norma Lopez was found on Tuesday from the remote outskirts of the Moreno Valley from where the girl reportedly went missing. It was a local resident who found the body while doing some yard work and then alerted the police. Joseph Borja said that the body was found in such a poor condition that the police failed to identify the body immediately. Even the sex of the body was unidentifiable according to the Sheriff's spokesman.
Norma Lopez went missing on Thursday while she was returning home after attending summer school class at Valley View High School. Norma Lopez, like many other school going kids used the vacant field along Cottonwood Avenue as a shortcut to reach home early. The Deputies have found some of Norma Lopez' personal items along with some signs of struggle in the field. The police however have said that it has no suspect in the case and announced a reward of $35,000 to any person who would come forward with useful information.