Bay Bridge Shut During Hourlong Standoff
By Swatilekha Paul, Gaea News Network
Friday, November 12, 2010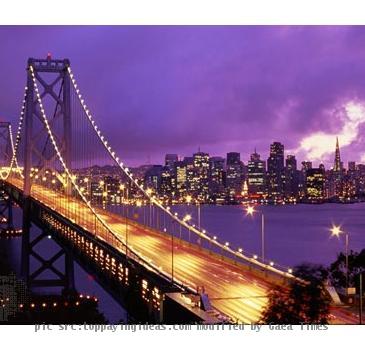 more images
SAN FRANCISCO (GaeaTimes.com)- The traffic on the Bay Bridge which connects San Francisco with Oakland was closed down for about an hour on Thursday after a man climbed on its ledge and threatened to commit suicide. Authorities rushed to the scene immediately after the man claimed that his SUV which was parked in the bridge was filled with explosives and he could blow up Bay Bridge at any moment. At around 7 in the morning, the police authorities received a call from the distraught man and this resulted in a one-hour standoff between the man and the cops.
With traffic at the Bay Bridge which is known to be one of the most important route in the city, being halted for about an hour, the commuters had to go through an harrowing time as all the westbound traffic was stopped by the authorities. While talking about the incident, California Highway Patrol spokesman Sgt. Trent Cross stated that the man is apparently mentally unstable and preliminary investigation suggest that he carried out the incident as he was upset about a family-related issue. After the cops tried their best to persuade him for about an hour, he turned himself in and was taken into custody.
Despite repeated claims made by the man that his SUV was laden with explosives at Bay Bridge, authorities did not find any in his car. Meanwhile, it has been reported that the man's 16-year-old daughter was also with him when he stopped his vehicle at the San Francisco-Oakland Bay Bridge but she somehow managed to escape from the car before the hour long stand-off.