South Korea Warship Case Solved?
By Naiwrita Sinha, Gaea News Network
Thursday, May 20, 2010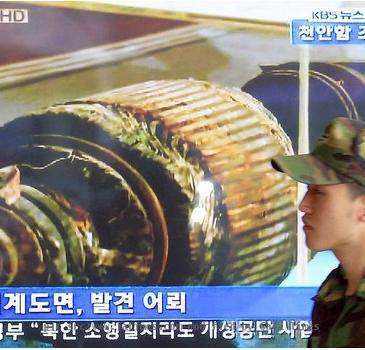 more images
SEOUL, SOUTH KOREA (GaeaTimes.com)- The President of South Korea, President Lee Myung-bak, declared Thursday that he would be calling an emergency meeting to deal with the recently unearthed evidence that proves that the sinking of the South Korean warship in March this year was a premeditated effort on the part of North Korea. The warship that sank due to a torpedo launch took with it the lives of 45 South Korean sailors who were on board. The reports of the recent development in the case that has been baffling the authorities ever since it happened came only on Thursday. However, the reports have been denied by the North Korean authorities.
The investigators of South Korea lowered a dredge ship in the region where the warship sank in March. The dredge ship came across the remains of a torpedo that looked very much like those that are designed by the North Koreans for the purpose of exporting to overseas customers. If that does not seem to be convincing enough, experts say that the remains of the torpedo also matched the design of one North Korean torpedo that was unearthed by South Korea some days back. Moreover, the markings on the propulsion system has 'No 1′ written in Korean lettering, and the markings are also similar to the ones on the aforementioned torpedo.
The President of South Korea has declared that he would be calling an emergency meeting on Friday, demanding that stern action be taken in order to counter what he termed as 'provocation.' He also said that it is imperative for the country to take certain 'resolute' measures against North Korea and make her confess her crimes, and before an international committee.