Baghdad's Hostage Crisis Ends
By Swatilekha Paul, Gaea News Network
Monday, November 1, 2010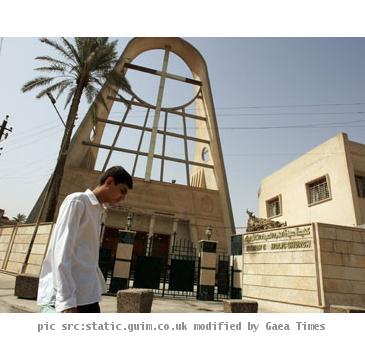 more images
BAGHDAD, IRAQ (GaeaTimes.com)- The hostage situation in a Catholic church in Central Baghdad was brought under control on Sunday by Iraqi security forces which finally brought to an end to a stand-off that lasted for hours. The Iraqi police officials have confirmed that as many as 37 people have lost their lives in the attack at the Catholic Church which included the hostages, the abductors as well as some of the security officials. An estimated 57 people have suffered injuries in the operation which was carried out to free the hostages.
According to police officials, the attack began when the gunmen tossed a grenade near the stock exchange in Central Baghdad soon after it had shut for the day. This was followed by a quick exchange of fire between the militants and the security personnels and the gunmen soon made their way to the Our Lady of Salvation Catholic Church. While revealing details of the attack, a spokesperson of Baghdad operations command, Major-General Qassim al Moussawi later told journalists that it was an armed attack on the Catholic church and security forces soon surrounded the area after the militants caused three back-to-back explosions in the area.
While briefing reporters about the attack, Iraqi Defense Minister Abdul Qader Obeidi revealed that the initial evidences point out that the attack on the Catholic Church in Baghdad was carried out by al Qaeda. Meanwhile, it has been reported that an umbrella group Islamic State of Iraq has claimed responsibility for the attack in a statement that has been published in the official online portal of the militant group. The Islamic State of Iraq is known to have links with al Qaeda in Iraq.