Chechnya's Parliament Attacked
By Swatilekha Paul, Gaea News Network
Tuesday, October 19, 2010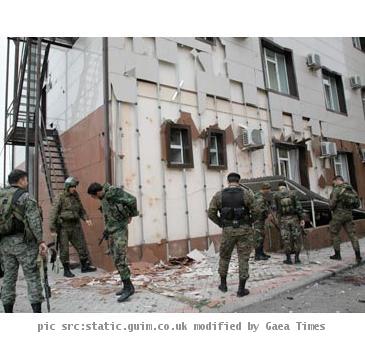 more images
GROZNY, RUSSIA (GaeaTimes.com)- The parliament in the trouble-torn Russian republic of Chechnya was witness to a bloody battle today when it was stormed by around four militants on early Monday morning. The situation was brought under control after an intense gun battle between the militants and the security forces ensued leading to the death of all the terrorists and injuring many others. Chechen authorities have confirmed that the all the militants have been killed while reports suggested that two of them blew themselves up. Two security personnels as well as a civilian is reported to have lost their lives in the gunfire.
While divulging details of the attack on the parliament building in Chechnya, President Ramzan Kadyrov later told reporters that up to four militants stormed the building at around 8:45 on Monday morning. The Chechen President further added that in the wake of the militant attack, a special operation was undertaken to wipe out the terrorists and ensure the safety of MPs and the other staffs who were present at the parliament building during the time of the attack. President Ramzan Kadyrov further went on to confirm that all the deputies who were inside the building have been evacuated and are now out of danger.
Zelim Yakhikhanov, who is the spokesperson of the parliament in Chechnya, later revealed to media outlets that the deputies present inside the building during the time of the attack soon realized that they would be taken hostage after gunfire's were heard in the courtyard. As the rescue operation was carried out, all the deputies took refuge in the third floor of the building from where they were later rescued.