Suicide Attack In Russia Kills 5, Injures Many
By Swatilekha Paul, Gaea News Network
Sunday, September 5, 2010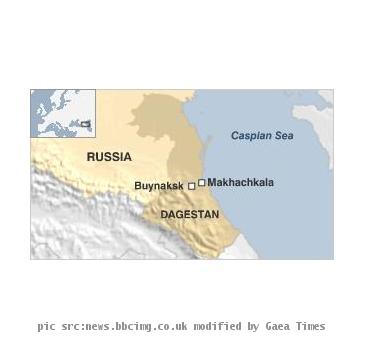 more images
MAKHACHKALA, RUSSIA (GaeaTimes.com)- A military unit in the Russian Republic of Dagestan was attacked by a suicide bomber on Sunday which claimed as many as five lives while injuring scores of others. According to law enforcement sources, a car that was laden with explosives made its way into the military base at Dalny which is situated near the city of Buynaksk which is at a distance of 40 kilometers in the west of the local capital of Makhachkala.
It has been reported that following the suicide attack around three people died at the spot while two others breathed their last in a medical facility. The law enforcement sources have also revealed on conditions of anonymity that an estimated 35 people are presumed to have received injuries while the condition of two of them is said to be quite critical. The suicide attack that was carried out on Sunday is the latest in a spate of violence that Dagestan has been witnessing recently in the wake of growing Islamic insurgency. Dagestan is situated in the volatile North Caucasus region which is known for its instability due to Islamist and separatist violence.
In the meanwhile, after Sunday's bloody suicide attack, Colonel Alexei Kuznetsov who is the spokesperson of the defense ministry of Russia has told reporters that the security regime for the duty officers and guards in the military bases across the country has been accentuated with the aim of preventing such kind of attacks in the future. While reacting to the suicide bombing, Local President Magomedsalam Magomedov emphasized that the attacks just points out the vulnerability of the region.