APNewsBreak: Johnson nets savings on prison labor
Company: Electronic monitoring went down across US
Wis. officials: Sex offender GPS system failed
Official: GPS sex offender tracking down across US
2 plead guilty to voting illegally in Wis. in 2008
Wis. prosecutor quits after 'sexting' abuse victim
Wis. prosecutor quits after coming on to victim
US judge asks Vatican to serve court paper to pope
Attorney says 'sexting' Wis. prosecutor to resign
Wis. regulators reopen 'sexting DA' investigation
Groups demand explanation of 'sexting' DA inaction
Wis. gov. working on complaints about 'sexting' DA
Wis. governor starts removal process against DA
Woman says DA harassed her as she sought pardon
APNewsBreak: 3rd woman says Wis. DA harassed her
Wis. DA denies asking woman on date to an autopsy
Lawyer denies Wis. DA invited woman to autopsy
Wis. governor says he's troubled by 'sexting' DA
Wisconsin governor considers removing 'sexting' DA
Wisconsin governor seeks to remove DA from office
Wisconsin governor seeks to remove 'sexting' DA
APNewsBreak: DA weighed lesser charge before texts
APNewsBreak: Lawyer says Wis. DA to fight for job
'Sexting' Wisconsin DA goes on medical leave
'Sexting' Wis. prosecutor says he'll get therapy
APNewsBreak: Governor may take action against DA
APNewsBreak: 'Sexting' DA rejects calls to resign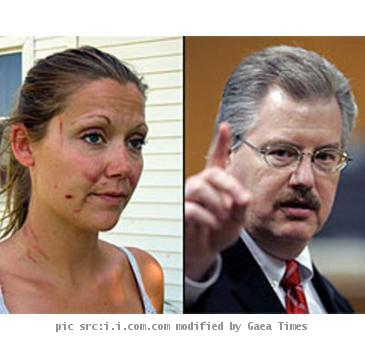 more images
Excerpts from some of Wis. prosecutor's 30 texts
Wis. prosecutor tried to keep 'sexting' case quiet
Wis. prosecutor who 'sexted' victim won't resign
Wis. prosecutor: Texts to abuse victim 'a lapse'
APNewsBreak: Wis. prosecutor 'sexted' abuse victim
Court blasts Wisconsin judge for Hitler reference
New Barrett ad focuses on attack outside Wis. fair
Barrett gov's race ad focuses on state fair attack
APNewsBreak: Life to improve for some Wis. inmates
Brewers' Gallardo robbed at gunpoint
MILWAUKEE — Brewers pitcher Yovani Gallardo and clubhouse attendant Alex Sanchez were robbed at gunpoint early Friday, hours after Milwaukee's ace pitched in a loss to the Dodgers.
Wis. woman killed by husband was staying elsewhere
Packers need more from backup cornerbacks
GREEN BAY, Wis. — The idea that the Green Bay Packers' defense isn't itself without cornerbacks Charles Woodson and Al Harris isn't exactly a startling revelation. Still, Saturday night's preseason game in Seattle was tough to watch at times.
Police: Wis. ride operator stunned by girl's fall
Police: Wis. ride worker hit self after girl fell
Workers examine alleged pot mess at Wis. forest
Fall victim's mother says it's 'miracle' she lived
Police look for why vet killed family, self
Iraq war vet kills pregnant wife, daughter, self
Operator of Wis. ride where girl fell is charged
Hidden in Wis. national forest: marijuana megafarm
Sheriff: 50,000 pot plants seized in Wis. forest
Feds: 1 drug group behind pot farms in Wis. forest