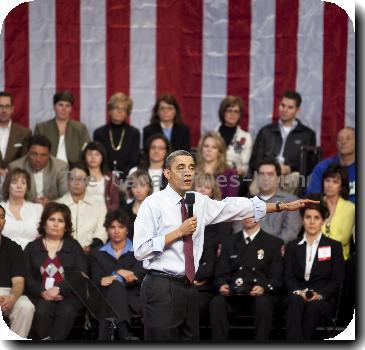 more images
High court upholds anti-terror law
WASHINGTON — The Supreme Court has upheld a federal law that bars "material support" to foreign terrorist organizations, rejecting a free speech challenge from humanitarian aid groups.
US envoy urges independent probe into Kyrgyz riots
Kyrgyzstan charges rights advocate with incitement
Kyrgyz army tries to get control in riot-hit south
Uzbeks flee Kyrgyzstan, seek safety at border
Israel, Egypt ease Gaza blockade after deadly raid
Activists send new boat to challenge Gaza blockade
Israeli commandos to block Gaza activists
ASHDOD, Israel — Israel on Thursday unveiled a massive makeshift detention center in the country's main southern port and announced the end of days of intense naval maneuvers, vowing to stop a flotilla of hundreds of pro-Palestinian activists trying to break a 3-year blockade of the Gaza Strip this weekend.
High court weighs anti-terror material support law
US missile kills 3 in northwest Pakistan
MIR ALI, Pakistan — Pakistani intelligence officials say a U.S. missile strike has killed three people near the Afghan border.
UN to pull some international staff from Pakistan