2 Christians acquitted in Algeria Ramadan case
Spain arrests American al-Qaida suspect
MADRID — Spanish police have arrested a U.S. citizen of Algerian origin who is suspected of financing al-Qaida's North African affiliate, the Interior Ministry said Wednesday.
French soldiers hunt for abducted workers in Niger
7 people, including 5 French, kidnapped in Niger
Lawyer: Algeria anti-corruption activist convicted
France announces war against al-Qaida
PARIS — France has declared war on al-Qaida, and matched its fighting words with a first attack on a base camp of the terror network's North African branch, after the terror network killed a French aid worker it took hostage in April.
Ex-Guantanamo detainee charged in native Algeria
Sarkozy: French aid worker executed in Africa
TEBESSA - Five people were killed and one seriously wounded after alleged terrorists opened fire at a marriage party in an Algerian town, police sources said.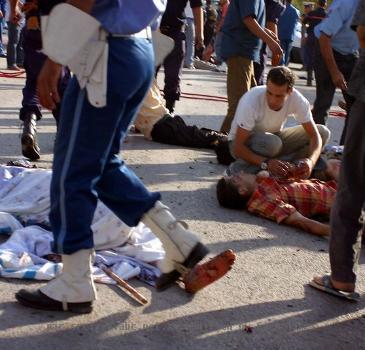 Ex-CIA station chief enters plea in sex, drug case
Al-Qaida offshoot grows in the desert
GAO, Mali — Dozens of Malian troops rush through the sweltering desert, yell war cries and open fire, spitting hundreds of bullets from rifles and machine guns. It's all part of a training session — run by the United States.
Ex-CIA official facing sex charge arrested in Va.
Niger police confirm kidnap of Frenchman, Algerian
4 Saharan countries set up joint military base
African army chiefs unite against desert terrorism
Chief of Algerian police killed by colleague
China's Africa footprint: a makeover for Algeria