NATO soldier, 15 insurgents killed in Afghan clashes
By DPA, IANS
Monday, November 8, 2010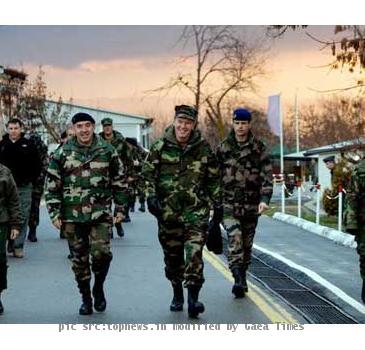 KABUL - A roadside bomb killed a NATO soldier in eastern Afghanistan, while 15 suspected Taliban militants and two civilians died elsewhere in the country, officials said Monday.
The NATO-led International Security Assistance Force said a roadside bomb killed one of its soldiers Monday in the east of the country.
The military did not disclose the nationality of deceased. Most of the coalition soldiers stationed in the eastern region are from the US.
Taliban militants rely heavily on roadside bombings as part of their insurgency.
A total of 626 foreign soldiers have died in the clashes with the Taliban insurgents so far in 2010, the bloodiest year for NATO forces since the ouster of the Taliban regime in 2001.
Around 150,000 US and NATO troops are currently fighting the growing insurgency in the country.
Afghan forces and coalition troops killed around 15 insurgents in the southern province of Kandahar, Zulmai Ayobi, spokesman for provincial governor, said Monday.
The combined forces carried out attacks in the Arghestan district of Kandahar province Sunday, killing 15 rebels and detaining 13 other suspects, he said, adding that the forces seized a large cache of weapons and explosives.
Two civilians were killed and one another injured Monday when a roadside bomb exploded in Zheri, a district in southern province of Kandahar, the provincial governor's office said.
NATO-led forces are currently engaged in a major offensive around Kandahar, the spiritual birthplace of the Taliban.