Thousands of Lebanese gather in Beirut 5 years after Hariri assassination
By Zeina Karam, AP
Sunday, February 14, 2010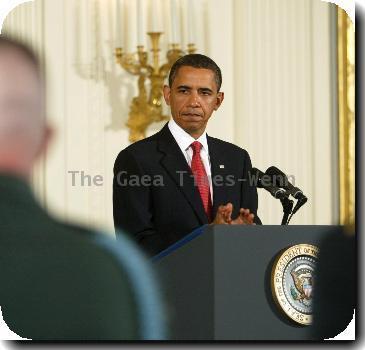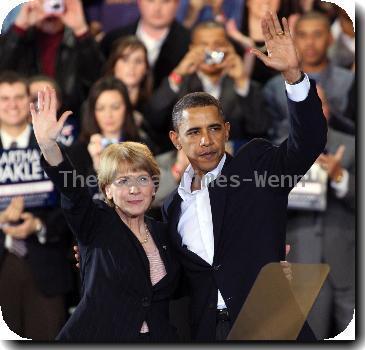 Lebanese mark anniversary of Hariri assassination
BEIRUT — Tens of thousands of people gathered in Beirut Sunday to mark the fifth anniversary of the assassination of former Prime Minister Rafik Hariri, whose death touched off Lebanon's "Cedar Revolution" and ushered in the end of Syria's 30-year military domination.
Although turnout was huge, it was estimated to be less than in previous years — perhaps a reflection of the rift within the pro-Western ruling coalition, now headed by the slain Hariri's son, the current prime minister.
"I am here to say Rafik Hariri did not die for nothing," said Zeina al-Sidani, who was carrying a red, white and green Lebanese flag in one hand and a red rose in the other. "We will continue to fight for our independence."
Hariri was killed in a massive truck bombing in Beirut on Valentine's Day 2005, a killing that sparked a cascade of political turmoil in the Middle East. An international tribunal set up to try his killers has yet to identify the perpetrators.
The five-time prime minister had close ties with Western leaders as well as Syria and was credited with helping rebuild Lebanon's capital after the 1975-1990 civil war. In the last few months before his assassination, however, he had tried to limit Damascus' influence over Lebanon, and many accused Syria of involvement in his killing. Syria denies those accusations.
Hariri's death was followed by the rise of a U.S.- and Saudi-backed alliance that became known as the March 14 coalition, named after a day of massive anti-Syrian protests dubbed the "Cedar Revolution." The demonstrations eventually led to the withdrawal of Syrian troops, ending almost three decades of Syrian domination that was established during Lebanon's civil war.
This year's anniversary comes after Prime Minister Saad Hariri reconciled with neighboring Syria, whom he has openly accused of killing his father. The 40-year-old Hariri now heads a unity government that includes Syrian-backed politicians who had been part of the political opposition.
Unlike in previous years, when leaders' speeches were peppered with attacks and insults against Syria, Hariri this year spoke of a new stage in Lebanon's relations with its neighbor.
"In all truth, honesty and responsibility, I am keen on keeping this window open, and on building a new era in Lebanese-Syrian relations, from one sovereign, free and independent state to another," he said.
Billboards showing the elder Hariri were erected across Lebanon's seaside capital, and many in the crowd carried banners that read "We miss you."
"I hope one day we will know who killed him and all the others," said Elias Rahmeh, 40, referring to a string of political assassinations in Lebanon. Rahmeh said he wished Hariri had not reconciled with Syria before the truth came out from the tribunal about who killed his father.
"But he is prime minister now, and there are things he is forced to do even if he doesn't like them."
An international tribunal based in the Netherlands was set up a year ago to prosecute Hariri's killers, but there are concerns that the case is languishing.
Two high-level departures from the court in recent weeks have increased the worries of Hariri's backers, but the tribunal's head said during a visit to Beirut this month that the investigation is on track.
President Barack Obama also assured Hariri in a telephone call that he strongly supports the work of the tribunal, according to Hariri's office.
Sunday's rally in Beirut's Martyrs' Square was an attempt by Saad Hariri and his allies to regain some of the political momentum lost after a major rift within its ranks.
Druse leader Walid Jumblatt — once a key figure in the March 14 alliance and a vehement critic of Syria who even called for Syrian President Bashar Assad's overthrow — quit the Western-backed coalition in August and moved closer to the rival Hezbollah-led camp.
He now calls for "distinctive relations" with Syria and says he's prepared to also visit Damascus, the Syrian capital.
Jumblatt grudgingly said he will attend Sunday's rally with Hariri, but he left before the speeches began.